Dr MR Rajagopal sits quietly, as I fight back tears. I have to interview him about palliative care and I am mortified at the emotions that have caught me unawares. Memories of my father in his last days flood my mind and, as I try to compose myself, he murmurs, "The pain never fades."
I didn't know it then, but Dr. Rajagopal does this all the time: offer quiet strength, comfort and succour to patients and caregivers. He believes medical care is not just about physical relief to the patient and caregivers, but also about spiritual, social and psychological support.
Not for nothing is this Gandhian and Padma Shri awardee called the father of palliative care. His advocacy contributed to the amendment of Narcotic Drugs and Psychotropic Substances (NDPS) Act of India in 2014, which reduced needless suffering and provided access to millions to pain relief. He has also helped create the National Programme for Palliative Care by the Ministry of Health of Government of India.
Rajagopal was invited by Coimbatore Cancer Foundation (CCF) to share the work of his NGO Pallium based in Kerala. CCF also screened a documentary called Hippocratic 18: Experiments in Gently Shaping the World that offered a glimpse into the doctor's mission to alleviate suffering and pain in patients, especially those who have been reduced to penury meeting medical expenses.
"It is an elephant in the room that we can no longer ignore. Millions of people in our country are victims of catastrophic health expenditure. Paying for health services pushes them into poverty. Children drop out of school, people lose their jobs and the ripple effect continues long after the patient is gone," states Rajagopal.
India is somewhere at the bottom in the list of countries that have quality health care. But he believes that this need not be so. "Palliative care can reach hundreds of homes at very little cost. Engaging the community is key. There are enough and more people willing to help. All they need is a little training and, through them, so much of the burden on patients and their families can be lightened. Communities can provide emotional support and provide practical help."
The community-based approach has worked successfully in Kerala and he sees no reason why it can't elsewhere. "Palliative care is not even taught in medical schools. While the Hippocratic Oath encompasses its principles, doctors today are more medical technicians who work from their heads. The heart plays no part in their treatment plan," he rues.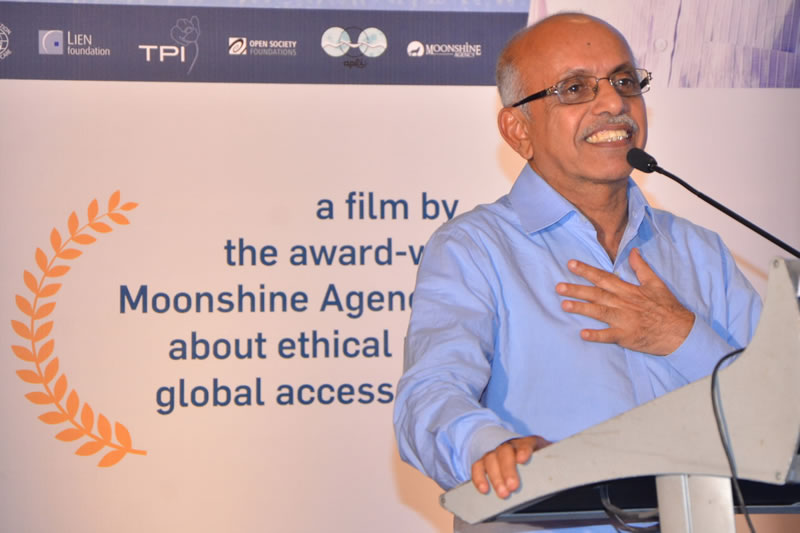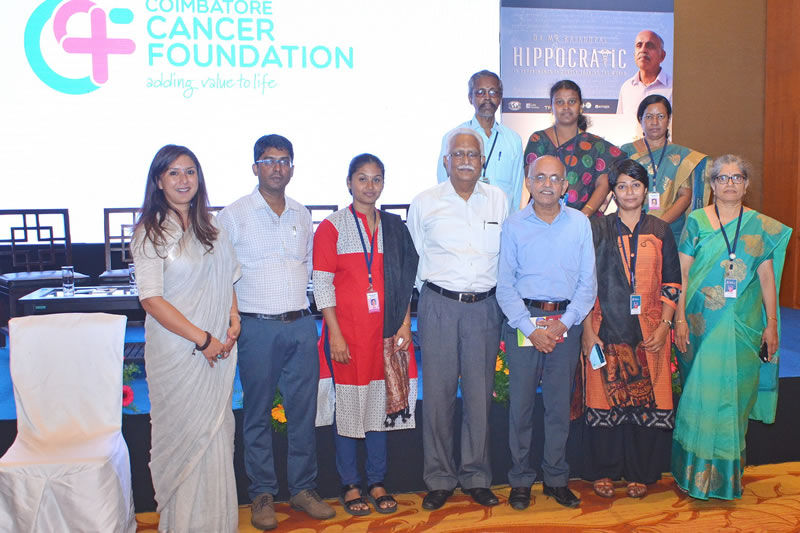 Instead of approaching the patient as a human being with cares and anxieties that go beyond physical pain, doctors only zero in on the offending disease and attack it, he says.
"We invited Dr Rajagopal to clear our misconceptions about palliative care and tell us how to implement it," said Dr T Balaji, Managing Trustee of CCF. "The stakeholders are all gathered here: those who need medical attention, the doctors, care givers and corporates. It is an opportunity to find out where we are in this matter. What can we do to make a change? How do we spread awareness? How do we get sensitised in a matter that is so ignored?"
Replacing the rhetoric of war would help for starters, states Smriti Rana, Programme Director of Pallium. "One is always talking of 'fighting' disease, 'killing' pain, 'losing the battle'… Rana speaks of personal loss and how she refused to let her ailing mother be as they tried one aggressive treatment after another. None worked and only made her pain worse. Rana also shared some grim statistics, "One in five suicides in the country are by people living in chronic pain," she says. According to Rajagopal, "We grow and produce large quantities of morphine, yet draconian acts in the past have significantly reduced access to it. In a very rough estimate, we need around 36,000 kg of morphine to manage pain. In 1997, all we had to work with was 37 kg. Pain can destroy lives for generations. Giving the patient relief from pain is paramount."
Following the screening of Hippocratic 18, there was a panel discussion on the difficulties of palliative care and the great chasm between reality and expectations. Panellists included Dr T Satyamurthy, Director of the Medical Intensive Care Unit; Shyam Vishwanathan, a full-time caregiver for his father who had Alzheimer's disease; Dr Alka Pande, a geriatrician; and J Swarnalatha, founder of Swarga Foundation that spreads awareness about multiple sclerosis and other neuro-muscular disorders.
Rajagopal guided the discussion and, later, the floor was thrown open to the audience to ask their questions. In his concluding address, Rajagopal urged those present to talk more about palliative care, spread the awareness, join advocacy groups to influence change at legislative and executive levels and donate to existing palliative care centres that usually rely on funding since most of their services are offered free of cost.
Hippocratic 18: Experiments in Gently Shaping the World
The film documents MR Rajagopal's work and, in doing so, shines the light on the power of the human spirit, human rights and social justice. It hopes to create more conversations about access to, and availability of pain relief, and to demand a health care system that treats the person and not just the disease.
Palliative Care is:
Given from the time of diagnosis of a serious illness, in order to minimise illness-related suffering, for the patient as well as the family
Concern and care for a vast spectrum of life-limiting conditions (and not only for those with Cancer)
A way to restore dignity and when the time comes, a death free of pain
A viable and humane alternative to euthanasia in the vast majority of instances. Pallium believes that people ask for euthanasia as they find their suffering to be unbearable. Palliative care can greatly reduce the suffering and thereby reduce the number of people seeking to end their lives
To know more visit https://palliumindia.org/
Palliative Care & You
Kerala has shown that involving the community can offer a significant improvement in health. In more than 300 places in the state, volunteer groups help look after the ailing in the community. Those who are abandoned, those who do not have a lot of social support and are vulnerable, the elderly living alone now get some degree of support from their neighbours. But the evolution of such compassionate communities is unlikely to happen spontaneously. In Thiruvananthapuram district, the following steps were taken:
Holding a series of awareness programmes in several localities, in panchayat meetings, social clubs, senior citizen's groups and other places.
Recruiting willing people as volunteers.
Conducting volunteer's training programme (2-3 days of classroom sessions followed by 2-3 days of practical training during home visits by a palliative care team).
Engaging the trained volunteers, involving them in patient care and ensuring that they have an opportunity to get satisfaction from their work.
Of course, there will be some failures and attempts by vested interest to personally gain from the movement. Those are factors to guard against; but certainly not justification to abandon the attempt.