Facilitating Screening
Understanding Screening service
We do screening camps both in-house and in the community. Early identification and screening can save precious lives.
Every Tuesday and Thursday, CCF offers free screenings for breast, cervical, and head and neck cancer at Oncology OP, PSG Hospitals. Cancer screening camps are also held in and around Coimbatore. Anyone who exhibits cancer-like symptoms is referred for further testing and diagnosis.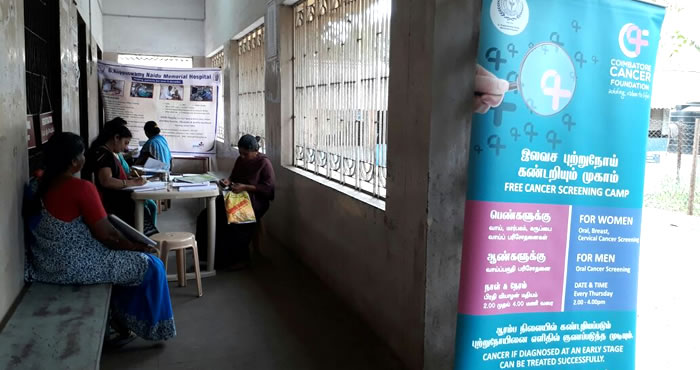 Projects
Complete Projects
Project AOGIN (2017-2020)
The Air India Authority Women Welfare Association (AIAWWA) and the Asian Oceania Research Organization on Genital Infections and Neoplasia (AOGIN) have signed a Memorandum of Understanding to organise cancer screening camps across India. They have selected the Coimbatore Cancer Foundation in the southern region to operate a cervical cancer screening programme in Coimbatore.
Objective of the Project
To provide facilities for screening and early detection of cervical cancer especially for women who have limited access.
| Year | No of Camp |
| --- | --- |
| 2017 | 4 |
| 2018 | 4 |
| 2019 | 4 |
Blurb:
"I have decided to let go of the control on everything that I hold on to. I'm going to consider things, which matters to me. I feel relieved and decided to heal self."
– MRS. PALKANI